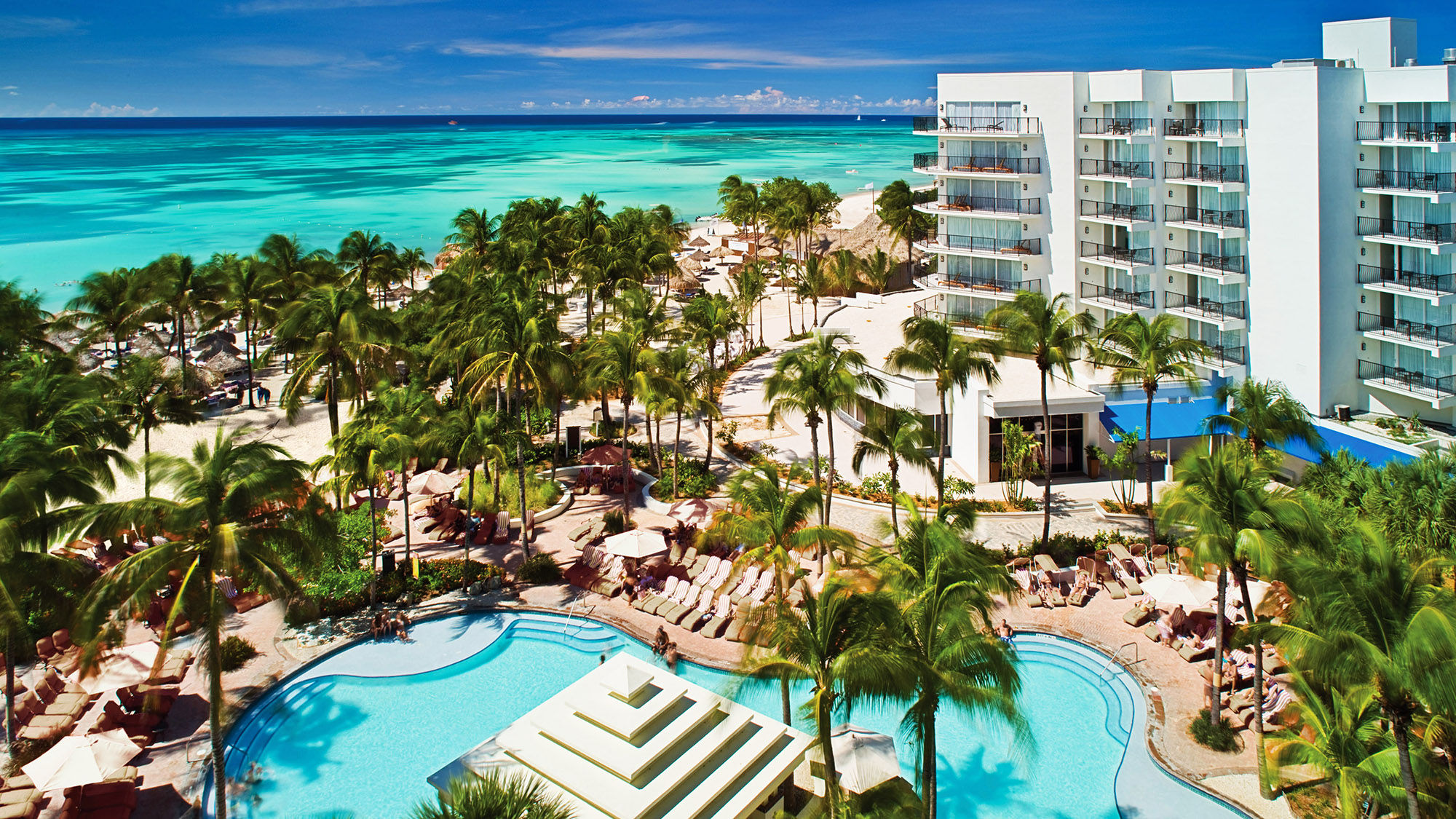 Aruba Marriott Resort Adults Only Experience: Weekly Trip
Aruba remains a popular destination for travelers in the Caribbean. And why wouldn't it be? With gorgeous beaches, mild weather that hovers around 80 degrees, and a location outside of the hurricane belt, it's an ideal vacation spot. Nicknamed "One Happy Island", the destination also has a beautiful desert landscape ideal for hiking, mountain biking and cave exploration.
The island is on track to recover strongly from the pandemic. In 2019, it welcomed nearly 2 million visitors, and last year Aruba's tourism minister reported that tourism had recovered 72% from those record 2019 numbers.
As the Caribbean continues to rebound from Covid shutdowns, travelers are seeking unique hotel amenities and personalized experiences. Another feature that many travelers seek out is adult-only programming. To accommodate this trend, the Aruba Marriott Resort & Stellaris Casino offers the Tradewinds Club, an adult-only "resort-within-a-resort" experience.
I recently traveled to Aruba and got a glimpse of the exclusive offer. After an easy three-hour flight from Miami, I spent less than 30 minutes clearing customs and took a 15-minute taxi ride to the Aruba Marriott Resort & Stellaris Casino, which is conveniently located on the famous Palm Aruba beach.
First impressions are everything, and the resort's lobby makes for a strong one, with high ceilings and plenty of stylish seating arranged around sleek wooden coffee tables.
The Tradewinds has its own check-in desk and concierge, which immediately enhanced the vacation experience.
Although the Aruba Marriott Resort & Stellaris Casino has more than 400 rooms and the largest casino and spa on the island, the Tradewinds Club offers plenty of personal touches as well as access to the rest of the resort's amenities.
After checking in, I headed to the resort's palm-lined beach, which has an adults-only area with a separate towel shack for Tradewinds guests. Another feature I loved were the palapas that came with the food and drink service.
While palapa dining service is a standard resort amenity, the Tradewinds Club has also recently launched a Peaceful Palapas service which includes a palapa rental for the day with a fruit platter, a morning guided meditation session and a newspaper. of full consciousness.
The adults-only lounge at the resort. Photo Credit: Courtesy of Aruba Marriott Resort & Stellaris Casino
Sushi, seafood and steak
In addition to having meals and meditation delivered to you, the resort has nine restaurants and bars.
On my first night, I enjoyed Caribbean sushi rolls and a signature Aruba Ariba cocktail from the Lobby, the resort's restaurant and bar. The resort also has familiar outposts like a Ruth's Chris Steak House and a full-service Starbucks in the lobby.
Atardi is the jewel in the resort's crown, offering guests delicious seafood on beautifully prepared beachfront tables. Few things beat a sunset meal of perfectly seared scallops with your toes in the sand.
I ate most meals at the hotel's on-site restaurants, but Tradewinds members also receive free light meals five times a day and access to a bar open from 6-9 p.m. daily – a welcome bonus for those who want to linger over a drink. in a cool adult-only lounge.
Tradewinds Club accommodations are located on a dedicated floor and include deluxe rooms with ocean and Palm Beach views. The hotel rooms are decorated in traditional Caribbean decor with turquoise walls and dark wood furniture.
The bathrooms were large and there was tons of storage space as well as a walk-in closet. My room overlooked the beach and the adult-only pool, the H2Oasis, and I had plenty of room to drink my morning coffee on my furnished balcony.
Ultimately, Aruba offers travelers the right mix of beaches, exciting activities, and great food. While the Aruba Marriott Resort & Stellaris Casino is also popular with families, the exclusive Tradewinds Club also makes it an ideal choice for girl-on-girl trips or solo travelers who want to disconnect under a palapa.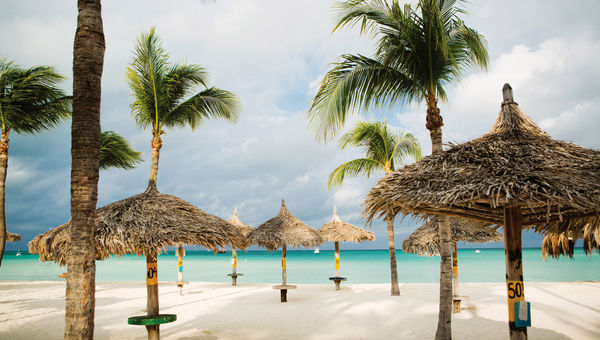 Palapa catering service is a standard resort amenity. Photo Credit: Courtesy of Aruba Marriott Resort & Stellaris Casino
Rewarding off-station exploration
Although there was plenty to keep me busy and satisfied at the resort, I couldn't resist the urge to explore the island.
Outside the resort, I got a taste of Aruba cuisine and exciting activities. One of my favorite dishes was pancakes at Linda's Dutch Pancakes. Minutes from the hotel, the casual restaurant offered a taste of Dutch culture with pizza-sized pancakes in sweet or savory flavors like bacon; cheese; or strawberries and whipped cream.
Lima Bistro was another restaurant highlight; the recently opened Peruvian restaurant on the Oranjestad marina promenade serves generous cuts of pork chops and lobster tails.
I visited the Aruba Aloe Factory, which offered a fascinating story behind one of Aruba's most popular exports.
Another highlight of my off-resort adventures was exploring the Aruba desert in a utility vehicle. Organized by De Palm Tours, my half-day tour included a guided off-road tour of Arikok National Park with stops at Blackstone Beach, Ayo Rock Formation, and the California Lighthouse.