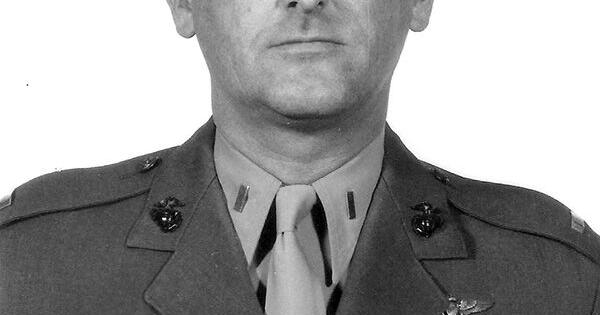 Captain Francis (Frank) Gajewski | Obituary
On April 5, 2022, 90-year-old Captain Francis (Frank) Gajewski left the bonds of earth to join his fellow Marines in guarding the streets of paradise. He passed away peacefully surrounded by his loving family. He was a Marine through and through.
Frank was born on August 4, 1931 in New Haven, Connecticut, to George Gajewski and Apolonia Adamski. He married the love of his life, Patricia Moore, on September 16, 1961.
Frank graduated from Hill House High School in 1948. He enlisted in the United States Marine Corps in 1950 and retired in 1970. He held many positions during his 20 outstanding years, including including Aircraft Mechanic for Korea Tour, Officer Candidate School, Pilot for Fixed Wing Aircraft at Pensacola Naval Air Station, Station Maintenance General Manager, Air Traffic Controller, Helicopter Training Command , helicopter squadron pilot and combat pilot for two tours in Vietnam. He also served as a pilot for Marine One, transporting Presidents Eisenhower, Johnson and Nixon as well as many dignitaries from foreign countries.
Frank has earned numerous awards during his military career, including the Distinguished Flying Cross, seventeen Air Medal Awards, National Defense Service Medal, Presidential Unit Citation, Navy Unit Commendation, Vietnam Campaign Medal with device, and the Vietnam Service Medal.
After retiring from the Marines, he attended Durham College and became a draftsman at WE Simpson & Co. in San Antonio, Texas.
Frank lived in New Braunfels from 1970 to 1994, Canyon Lake from 1994 to 2021, and returned to New Braunfels from 2021 to 2022. While he and Pat raised their family in New Braunfels, he coached and managed baseball from Little League and coached a youngster. football team. Frank was an avid supporter of the New Braunfels High School Unicorn Marching Band, a life member of the Knights of Columbus, and a member of St. Thomas Catholic Church.
Frank and Pat have spent fifteen years RVing coast to coast.
He was predeceased by his parents George Gajewski and Apolonia Adamski, his sisters Helen Turner and Mary Szeligowski, and his beloved dog Beau.
He is survived by his wife Patricia (Moore) Gajewski of New Braunfels, Texas; his children, Dr. Kathleen Gajewski of Pearland, Texas, LouAnn McMurray and her husband Brad McMurray of Schertz, Texas, Michael Gajewski and his wife Jocelyn Gajewski of Tucson, Arizona, and Nancy Young and her husband John Young of Canyon Lake, Texas; his grandchildren Calli McMurray, Emme Benefield and her husband Mason Benefield, Erin McMurray, Mackenzie Young and Andrew Gajewski; and his sister Florence Szeligowski of New Haven, Connecticut, as well as his beloved dog Bella.
The family is deeply grateful for the excellent care provided by Hope Hospice and his favorite nurse whom he affectionately called "Dr. Ben".
The family will receive visitors at St. Thomas Catholic Church in Canyon Lake, Texas on May 6 at 9:30 a.m., followed by a mass at 10:30 a.m. Burial at Ft. Sam Houston in San Antonio with full military honors will follow at 2:15 p.m.
For more information, please visit Zoeller Funeral Home dignitymemorial.com
In lieu of flowers, please consider donating to the following charities: Hope Hospice, 611 N. Walnut Ave. New Braunfels, TX 78130 https://www.hopehospice.net/donate or The Gary Sinise Foundation, PO Box 40726 Nashville, TN 37204 https://www.garysinisefoundation.org/donate In memory of Frank Gajewski Use email [email protected] for messages.