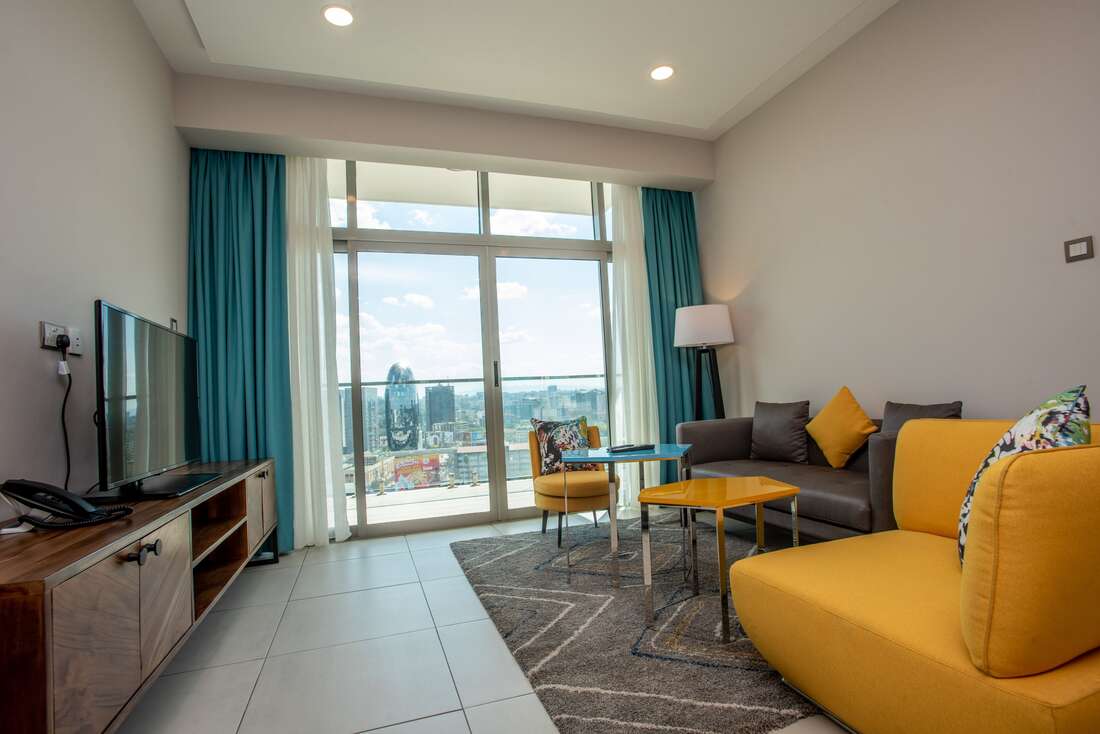 Developers are embracing the apartment model to appeal to long-stay hotel guests
Houses

Developers are embracing the apartment model to appeal to long-stay hotel guests
Tuesday 02 August 2022

More and more hotel chains are looking for new ways to bounce back from the low pandemic season, selling some of their units to investors eyeing customers paying for short- and long-term accommodation.
CityBlue, which has more than seven hotels in Africa, is the latest to choose to move away from its hotel and resort model and become something its owner calls "aparthotel".
An aparthotel is an amalgamation of hotels and condominiums, and CityBlue is banking on change to open up both a real estate opportunity and a new sleeping space for traditional hospitality businesses.
It's a concept that quickly caught on in Mombasa and Kisumu a few years ago. The buyers invested in hotel apartments, which were managed by a single company, and the owners obtained monthly or annual returns.
Today, CityBlue Hotels is diving into the waters of Nairobi with its first prototype. The 249 serviced and furnished apartments with one-, two-, three- and four-bedroom units, called Skynest Residences by CityBlue, target people booking for both short and extended stays.
Owned by the Diar group, it sells some of the units to buyers, to supplement its income from hotel services.
New entrants
"The hotel and residence business model is globally understood and requires some management specialization to be able to execute it. We hope we are in the right place at the right time," said Jameel Verjee, Founder and CEO.
Extended-stay hotels are becoming popular in the West, with companies such as US-based Edyn Extended Stay America attracting billions in funding to grow the segment.
In Kenya, the market is also attracting new entrants such as Ascott, a Singaporean company which has opened 162 units in Nairobi's Kilimani. It targets expats, business owners and other clients looking for long-term accommodation.
Extended-stay hotel rooms are becoming more affordable accommodations for expatriates on short-term assignments. They also come with guaranteed security.
CityBlue's model, which he says is a mix between hotels and Airbnb, offers spacious serviced apartments that allow guests to cook, host friends while also hosting an upscale restaurant, on-site staff and unit management.
The company also offers to manage the units for buyers who accept them as investments and wish to rent the units as part of the hotel.
Mr. Verjee said most unit owners at Skynest Residences by CityBlue see the value in investing to keep CityBlue running, a growing trend that has seen the hotel manage most of the units it has sold.
"Skynest Residences by CityBlue offers an excellent return on investment to its peers. This takes into account our costs," he said.
He left the practice of law in the UK where he spent five years in one of the best law firms to go into business independently and with his family in Europe, the Middle East and Africa in multiple sectors.
He founded the hotel business in Sub-Saharan Africa where CityBlue hoped to set up three and four star accommodation in Kenya, Tanzania, Rwanda, Ghana and Mauritius.
It has lined up eight hotels in Dar es Salaam in Tanzania, Kigali (Rwanda) and an undisclosed city in Mauritius, two in Accra (Ghana) and three in Kenya including CityBlue Creekside Hotel & Suites, Mombasa, Divine Residences by CityBlue and Skynest Residences . in Nairobi.
The eight hotels with 656 rooms combined have raised the company's profile to the top 10 hotel chains which account for 80% of rooms scheduled to open in 2022 and 2023 in Africa.
The 3 and 4 star accommodations are designed for business trips, conferences, team building, short stays, outdoor events and weddings.
The Diar Group plans to use the new model to carve its way into the space of big brands like Accor, Marriott International, Hilton and Hyatt by endearing itself to the local traveler who has supported the tourism sector during the pandemic.
Rebound in tourism
To achieve this ambitious growth, the company says it has built flexibility into its business model where it can lease a turnkey hotel or an existing hotel and renovate it; manage medium-sized hotels or franchise the CityBlue brand to an establishment that meets its criteria.
For example, it has partnered with Valor Hospitality Partners, a global full-service hotel management company to operate its Divine Residences by CityBlue in Riverside, Nairobi.
Data from the Kenya National Bureau of Statistics shows that revenue from the travel account increased from 15.2 billion shillings in the first quarter of 2021 to 22.4 billion shillings between January and March this year.
Revenue jumped by 7.1 billion shillings or 46.9% even as the number of visitor arrivals via Jomo Kenyatta International Airport and Moi International Airport increased by 85.1% from 121 739 in the first quarter of 2021 to 225,321 visitors in the first quarter of 2022.
Kenya's tourism sector rebounded from a sharp drop in Covid-19 infections and hospital admissions, which forced the government to ease coronavirus restrictions, lift mandatory face mask requirements in open places and to put an end to quarantine measures.
[email protected]