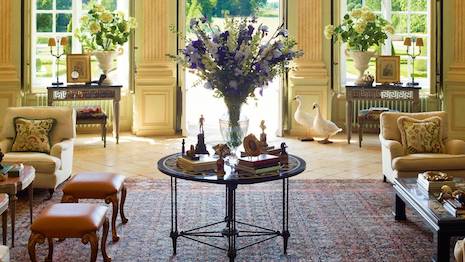 Free Webinar: Designing for Tomorrow: Home, Garden and Equipment Reinvented
Living room interiors by designer Timothy Corrigan. Image credit: Timothy Corrigan
Please click here to register on Wednesday, July 14 from 11 a.m. to 12 p.m. ET (New York time) for the free webinar, "Designing for Tomorrow: Home, Garden and Amenities Reimagined"
The events of the past 15 months have changed the perception and use of the home as a launching pad not only for personal activities, but also as a hub for work, entertainment and education. What does this mean for the design of new homes and the renovation of high-end legacy properties?
While affluent consumers are regaining confidence with a resumption of travel and work habits and an in-person return to school for families, some changes are here to stay. The main changes are flexible arrangements for working from home and more digital meetings, resulting in more wear and tear as well as more compartmentalization of the use of assets.
This July 14 Luxury Hour webcast from 11 a.m. to 12 p.m. ET via GoToWebinar – from Luxury daily and Luxury Portfolio International – will discuss:
* Why luxury home design needs a new approach
* Hub and spoke: is this the way to go for dealing with primary residence in relation to all work, play and home activities?
* What will new homes and renovations look like?
* How will the landscaping and gardens evolve?
* Furniture and lighting of the future
* Increased digitization of the home and intuitive equipment
* Material changes: a fresh take on stone, wood and composites
* A larger footprint means more energy consumption. Is sustainability declining?
* Imagine the luxury house of 2025
Loudspeakers:
Timothy Corrigan, Director, Timothy Corrigan Inc.
Alessandra Branca, Director, Branca
Charles Hilton, Director, Charles Hilton Architects
Brittany Chevalier McIntyre, Editor-in-Chief, Luxe Interiors + Design
Moderator: Mickey Alam Khan, Editor-in-Chief, Luxury daily
Please click here to register on Wednesday, July 14 from 11 a.m. to 12 p.m. ET (New York time) for the free webinar, "Designing for Tomorrow: Home, Garden and Amenities Reimagined"
{ "Ct": "PObP3nEZog9Z5CnMFwsVbSn9 + XX9JxXxbOTgkopyHlHE3cnEt / C2NYdHzlufsIGGd / uhsgC1xyHCbXQh2M82RsE9UkKf + Za3nhxGHIidxhPNchRnUnLl9mfE6 / gBExQozYng7LzY / Ay88O9ZrDP27LVpzJeqLFo3MzEF + 1KkS7kI1MRPJ0P3m490sAeZ6HzrwmwyEglws8s1dpbs9itSIeRqmP5ict08n9qQl4vtuwIPyHUMZw8SEduO / K7gf2MHsglwyMIavHZXw3Fv / 6qqUxJbWHFid + ovVaMvDPF / 5ZngdkFk11unVf59cJfTdrZRBcF70JN2lJtgsOR1GQqVEjExujVWW / 9crqeVewnvwDM7 + Flr6GyMfuUDb4u9uCO6ZEepubRUi + ANN9kHK0F4VT9wYTgpwmoz1URUUHD6eC / OWnG9STWiM2VlRK9QtVhzqUV / JgJoeCV6qalBzTykiECeZXR / oC3PnkR01pZ0Mo3YCdNgH7iJuhnOqZvfj1rNFvZuUZh1IyDRYmZBdvxbg3o78fvjWnuGvv3cxNs2qgzXbD1s4qGT8W15DzTcxPmAuzXRFiAF5eS 4yV8jW24xCnouHVd2mjOABzs977znNIXbG9KE7v5lsefT0KYDP0 + / + mkjlgibpp saZCtYLmgFcG / VBZ4cVhXIWthKz9C4hLk5Ke3Finlof3PShoy9V9fyQ2cnVglw / cIovJyJyCgRmXFtA / MSlWzb5jBurOxu5wnV0RdbLQ3KRsxGNHxm8JigaQXro5vIkq R1wGHaJiNtCtzwxP + + + HDn0IoDKoH5Q68fQMxwhylyiQL8yJsKQxke6rMdas5omPN S40VY / H3uMgSpqBhnStP5d4LkJvXILpaLsAe0hZj + Nf + MYlRukkW7q7 / ZeA8r1tpOVuWGrTsYEujF / qXJbrmC8icOqBeVAwpK1TXnpsMhjfX + oG8ChEgHl1gvRNbP / vOKlO XkaUSFfQN + tt8Pi0Q53A82KCt3nJ872bRrTTSabcAF5EYaESQlgOmq / o3RFdMzNYwejo0Uh8HOImUMeh3IE5Dv6tz2BMHvRndB8GbnvdMPSRq9LKkDt / 1nIyVrnNxx79Hg1ChGCF7Plob8fWO / njhLAZMGKtsU3JIumXUbIcyG + CIqOVAx4OT + 6Y5i6MOfEL5Uj + juQVSYaugLMzV6p5QXBht3bbFMvzZ / IxxXuE9C7azqr3iNV51sOg13 / Nf3ExyUcRDO5Onj8HBqb3awqFNwf711dBNkSCQD85IpAhWv3QLsDByc5nGw0 + rISqcMblaOyg456ePTNkuBYsaFBamOMAUMcRKhcIPiQhHnGXPrneZzVZM71YjFDT180esmD5jt2yn8 + ru6HmG3jRVzCuO8R8xFsJ8v + AON1M3uVfRRCLiCFKdMqcwQsPf9AM1P / Gbal + vCf5CCBCFb1zr8LHeP3CbC6gzzojK / DHjHFnLgqxcD + tOhum2bX5Pi43e / 3o / S7Q5S sQhSfZL4AiTf2FgSnjwdivrLtziNQQFW + / A3WkwVxszsw1AKxNX20M16e W1m3CdI + / + 9aadI5mY8EaIdLw42bO35OSRxIjczwHwWvtwdUxDpX8TkJ0fimc7Fp8AhOCIXbhrv2TVVQc8qAWz86RwESYcao 5SbL iezuqbdjM5zm23fVYG1zz7XJTkmRksftQdOiBIJSCKuiizbWTNqmyTiMfwInS4WUYBStoedahs9 + / OCDsm8Gv05sKlpMcH7oMwM1uLy7wU0omFYCY99hkm5DHG43XcF2bu5bws1lwfF7jltoEyXhJQLUBer9FtO5k9c VHnznf7b4vWttD9Ud1ztH + o47dVl7cW + FAvmW9b8Gy2CA87Rv0TPLIrUZlaYO7RPojyizTfPH4Gyo0QajzXCOWDXXEj5Z2E5Jes9pPSlzisVAfDxDL9qctfqc3cg4S1 / cqHH8zBcLEDbs1fZFr6lL soA8HyvRMv0MWsD6wLMecx / QJuPSc3F9uH92BOig7Y9sQNHSVfKjS8EEzcZKtzAIQH8dIIOvb93grAW / f7MvWyU0OybH4zhWFrv1dogNjffuGRSeFAAErJcaRhdRuLrI7nMoPbTFlR4fqTbsRk / GcJjSpS7Cd85fv7XJC1sfw3hJ2pxMhE9HvbsojmBQeA9heJufO / Y3K / a / KNjxDVghLst9SRljn9ceitWhlnyuT4jbGAFWdi77Sm69BpVVYeHiwl61CTXyZ1vjgKFvRi / sbC9Ya3F8fEiV5h4aAFSjkIVCDyQeZwMPHKe7xdPeQp5kq70vyCrGzhYq7Qm8Oiek00MYCYRnhbUu0gDqXX35N8w9MweJUZJSR8mqCgwMvf44Q11zcMfskKfSOH5u1ly7kexPbnYnbh8YAskdpYmFLAqBmeRIaZmVG / 7qZSyF6dVkD0BurlpL20vOwIl6m8SM8D7kxj8K5FjMTsVOTJnfp6wxlqt9D7r + + YoDvKByoq0d8SbiYGiMeWg57B 01CN54GMulZkUJ4W4ZJ4Nx4TggSHIEe7NKJb0INU / fb3pY7KhkaKj4AGiTIvgOq6H3OIYCZitXWk1ajKpCaK7R6s056dIKgxp6y + + lokR5oaZ4EjsauRRVH8HuMMlAtG3Jhp3lB e7phJE5 / mIyAGXyWoBrWp1AmjmaelkuE6yss8mbFUmZmqNbxOZPKN0JzKmwnQinDWjAnEWLjXhYn8tbGPhrHjD / aZ ++ v13TMksJoBBYg863oafEmh3zGBp4FZjtQ4TW a / KwSoFUBK9Pnfr75oYti5LO19PZyvm1EjOTuaWorKoItquAzSGQhYPVjFFS8lgxGEFnnUVGPXJd1VjABh89rJvCvDQcQx2frfj9A10fZxhVYcRpGxg13P4LtIF5WK6 I5rJg3eSHgDYkKU21mpU5OHxk9kxKo41kSZHeIxdZ7nyyQQzjOlAwAFwI9BB3gIQDAvJODnD DwrQ + + + + Ti2TiSkxtM52PtJraB52esCJGEkJZHkEMwSoFPm0E9ZoWCBUfTtZyFjgdDmjgA21U RvGdh8m8tmqHcSr4CtQeX4vj Hdk2CGlziLkph1Q3m + u + YPGYQH5Nb7Ji0XnxWVOf6tGGiNgKGCxtU1seX9xRn557i / irEQpT63V7En6o3u4RneghCsim59ys8uZIMyMjsDlUcUhWHztHMdDxYmv2BqvXWGmPJBnR0nyZGI9 HZKrbXbx6NsBHOhOI63vnM7Z3md + / == rOz1LG3SiSXn5ZfsrFrku5kCUulCIQbXimzPOxGPwrTt35nRHprFkGVLc4SrlmveQCRKw "" iv ":" 66d109ec870b667dc9affc10c53043ee "," s ":" d0ca603c98084b0e "}