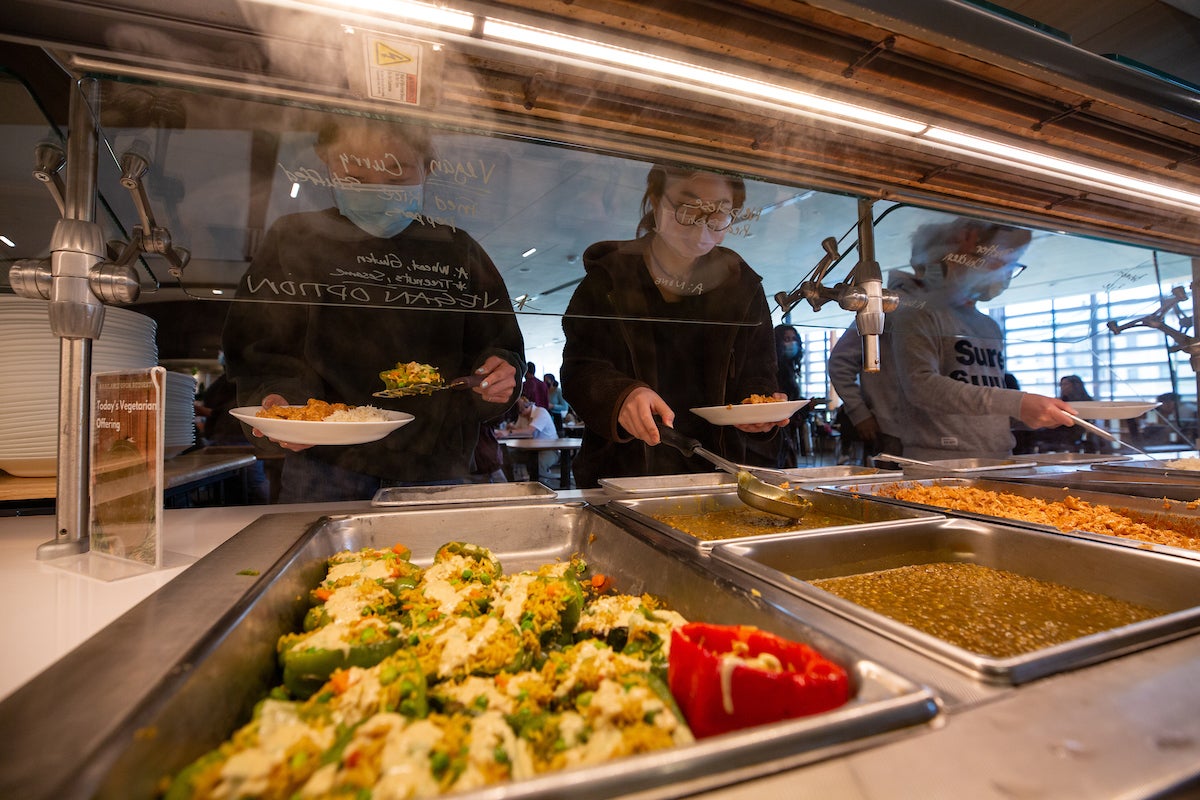 "Lunch for All" in Glasgow
UC Riverside's largest and most modern restaurant is now open campus-wide.
The residential Glasgow restaurant at the north end of campus has become a popular place for students since opening in fall 2020. However, until now it has been restricted to student meal plan holders due to the precautions security related to COVID-19.
With the start of the spring term last week, Glasgow has started welcoming all students, faculty, staff and visitors for lunch. "Lunch for All" is available Monday through Friday from 11 a.m. to 2:30 p.m. The price is $14 for an all-you-can-eat buffet. Breakfast, brunch, dinner and weekend meals remain exclusive to meal plan holders.
Catering services had always planned to eventually open Glasgow to all, but capacity was initially limited due to the pandemic, said Moses Preciado, Glasgow's senior manager. He noted that they had received several inquiries from staff and faculty about dining in Glasgow.
With vaccination rates up and positivity rates down, conditions have improved where they thought the time was right, Preciado said.
"Everyone was waiting for it," he said. "We are all happy to feed them. We are delighted to offer them another dining option.
The two-story, 51,000 square foot building has a seating capacity of 900 and includes five main food stations where diners can choose from a wide variety of cuisines.
The most popular service line is the 360 ​​Grill, a circular station in the center of the first floor that serves dishes such as burgers, sandwiches, chicken tenders and fries.
Another line of service to the side of the room is the soup, salad and charcuterie bar which includes pre-made salads, sandwiches and soups. It also includes two build-it-yourself salad bars.
The other side of the hall features the exhibit's bakery where diners can watch staff prepare cookies and cakes for the dessert bar which also offers gelatin desserts, puddings and a soft serve station with cones and garnishes.
The beverage bar offers soft drinks, lemonade, vitamin-enriched waters, sparkling water, brewed tea, coffee and, during breakfast, freshly squeezed orange juice.
The cereal bar offers eight varieties of cereal as well as soy and almond milk options. Diners can also create their own waffles for breakfast and lunch at the waffle bar.
On the second floor, the Carvery is the central food station serving roasted or baked sculpted proteins such as roast chicken as well as vegetables and starches.
Nearby is the Wok service line which offers Asian-inspired dishes such as kung pao and orange chicken served with rice and noodles. On some days it also includes Indian and Pakistani dishes like butter chicken.
Further to the side of the room is the griddle line which serves different varieties of pizza every day. Occasionally it will include a hot dessert like a churro bar or mini pies.
"It's very popular with our students," Preciado said.
All food stations have at least one vegetarian or vegan option while halal chicken is served at the Carvery. Menus are changed frequently to provide diners with a varied experience, Preciado said. The restaurant also serves as a test kitchen for chefs to try out new recipes.
Diners can view menus on the Food Services website.
Preciado noted that Glasgow is also popular among students for its vibe. It features high ceilings, large windows with stunning views and includes an outdoor patio on the second floor.
"It's definitely not what people think of when they think about eating in college," Preciado said. "It's a higher experience."