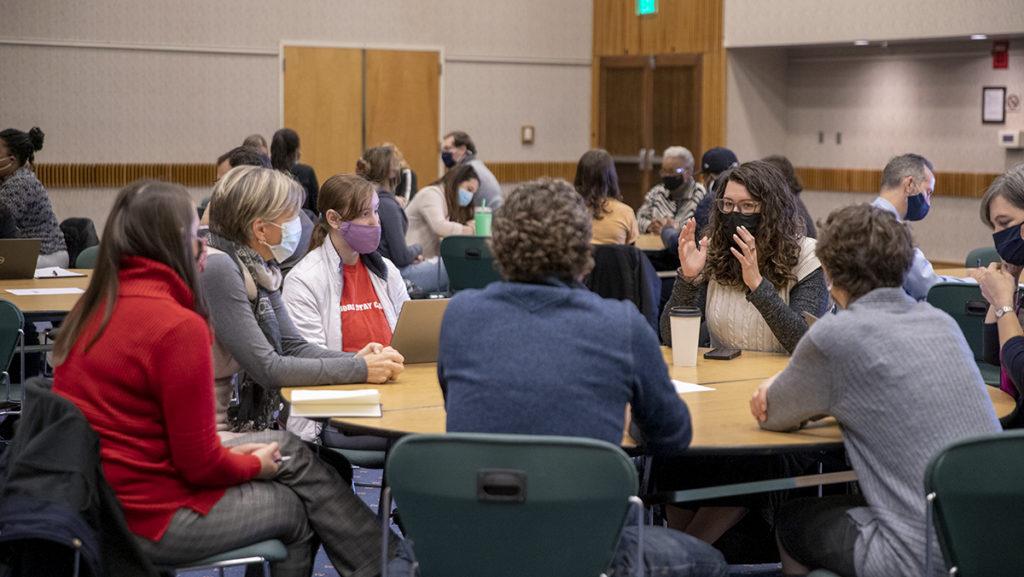 SGC and SLT host listening session for student body feedback
The College of Ithaca Student governance council (SGC) and Management team (SLT) held a listening session on November 16 in the Emerson Suites to give the student body the opportunity to share their experience in the fall of 2021 with college leaders.
The session included approximately 15 students, seven SLT members and seven SGC members spread across six tables to have small group discussions about what has gone well since returning to campus and what has not been effective. A similar event took place in January 2021 on zoom and attracted around 80 participants.
Each table had a volunteer who acted as a scribe and noted the discussion so that the SLT and SGC leaders could look back and discuss the concerns of the students and how to create potential solutions.
The SLT and SGC groups intend to hold a second more formal discussion in the spring semester. A great focal point of the conversations was Mental Health.
Senior Kellie Swensen said the mental health of students is affected by the current circumstances they face.
"I think while we are trying to get back to some sense of normalcy, there hasn't been enough time and space for the students to mourn all that has been lost over the past two years. only with regard to COVID, but also through the APP [Academic Program Prioritization]"said Swensen.
The APP process started in September 2020 with the creation of the Academic Program Prioritization Implementation Committee (APPIC) and the Academic Program Prioritization Advisory Committee by Interim President La Jerne Cornish.
The college is in the second phase of the APP which focuses on the reorganization and restructuring of different academic fields. The first phase of the PPA includes the elimination of 116 full-time equivalent (FTE) teachers and 26 majors, departments and programs. The college is currently in Phase two of the APP, which involves the restructuring of academic programs, such as moving the Department of Theater Arts at the School of Music.
A lack of therapists at the Psychiatric Counseling and Services Center left students waiting weeks at a time for their problems to be addressed, according to the students in the listening session. CAPS consists of a team of licensed and eligible professionals who promote and promote mental health, emotional well-being and a sense of belonging, according to its Web page.
CAPS currently employs nine clinical staff members. Counselors are licensed or eligible full-time psychologists, social workers and mental health professionals, and adhere to the requirements of New York State law and the ethical and professional guidelines of their respective disciplines.
The problem with an understaffed CAPS is not new to the college. In 2015, the students launched the Get the CAPS Ready campaign in the hope of obtaining funds for an increase in the staff of CAPS. In 2019, the college implemented a 24-hour call service, hired a new principal, and had 11 employees.
CAPS has developed a program called "Let's talk"In 2019, which is a walk-in service that offers informal and confidential consultations with a CAPS advisor at locations around campus, according to on the CAPS web page. The program is currently virtual via phone call or Zoom.
Julia Machlin, senior, said it also impacts teachers, who act as a support system for their students.
"I know my teachers don't get paid to be therapists, they have so many other jobs they do," Machlin said. "… Many faculty members take more of it in their classes while doing their research and trying to publish their publications." "
Mary Holland-Bavis, associate director of student engagement at the Office for Student Engagement, said she hopes to implement events in the spring of 2022 where students can learn strategies to alleviate the stress of being involved. to be a student.
"It's important to think about how other faculty and staff can help ease this burden on students, it's not enough that CAPS can help," Holland-Bavis said. "I think other people can step in."
Junior Deontae Guy, Chairman of the SGC until his resignation takes effect Nov. 29, said it is beneficial for all campus offices to play a role in helping students.
"This way we are helping different communities," Guy said. "I think it will be more useful if we all share the workload."
Presence policies were also a concern raised by the students during the listening session.
"I feel like there have been statements of 'Oh, we care about your sanity., ' but they weren't reflected in the actual class structure, "Swensen said. "And there are also problems getting housing through SAS."
Student Accessibility Services (SAS) strives to make it easier for students with disabilities to enter college. Through the interactive process, SAS works in partnership with students, faculty and IC staff to develop and implement accommodation plans, based on their Web page.
Acting President La Jerne Cornish listened, took notes and asked follow-up questions on the concerns and ideas of the students.
Cornish said she hopes to make the listening sessions a monthly event with alternate meeting times so that all students can attend and ensure everyone's voice is always heard.
"I heard you and I will act on what I heard," Cornish said at the end of the meeting.